Page
Automatic Dosing Machine BORAMAT
There are various automation solutions for weighing the flux and sample:
BORAMAT ® Mono
The BORAMAT ® Mono Material Doser is an automatic dosing device for lithium borates in XRF. It was developed to improve the daily routine in the laboratory and to allow the user to weigh faster and to monitor every weighing process. Since it is compatible with all common laboratory scales, it can be installed in most laboratories without having to invest in a new scale .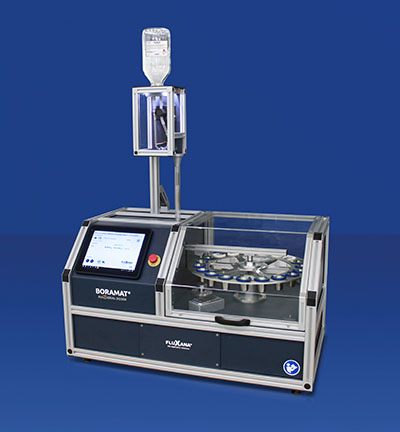 BORAMAT ® 18
The BORAMAT ® 18 enables the fully automatic flux dosing in up to 18 crucibles. This significantly improves the efficiency and precision of your weighing routine and saves time in sample preparation in your XRF laboratory. The intelligent software with monitoring functions minimizes the occurrence of errors and increases safety in the entire weighing process.
In order to guarantee a high degree of flexibility, it can be weighed directly into platinum crucibles, stainless steel crucibles or snap-lid jars .
A small scale built into the device allows the user to use the "catch weight " function. With its help, the user can also precisely weigh the sample directly into the BORAMAT® without removing the crucible from the device. Once the sample is weighed, the BORAMAT ® automatically adds the correct amount of flux to until the desired dilution ratio is achieved.
BORAMAT® 30

The BORAMAT ® 30 allows the fully automatic dosing of flux in up to 30 glass vials. These are particularly suitable to stock up on pre-weighed flux .