Volatile elements like S, Cl, F
The volatility of some elements, such as that of the halogens fluorine and chlorine or that of sulfur, is influenced much more by the ambient conditions during the melting process than the volatility of other elements. It is therefore crucial for the precise analysis of these elements that the temperature curve is extremely reproducible during the fusion .
The VITRIOX® ELECTRIC is particularly suitable for this preparation. The closed furnace design, the opening of the furnace downwards and a special temperature control ensure high reproducibility. The possibility of using lids for the crucibles in this device also increases the stability.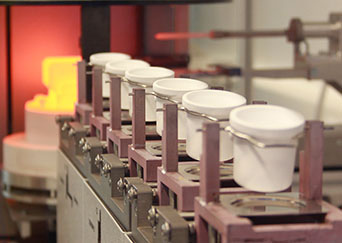 Use of quartz crucibles as a replacement for platinum crucibles
Some smaples containthe so-called platinum poisons ( sulphides, metals in particular aluminum, carbides, nitrides ) that do considerable damage to the used platinum / gold - crucibles during fusion.
In cooperation with the Rhine - Waal University of Applied Sciences in Kleve, the use of quartz crucibles as an alternative to platinum was examined.
For this purpose, the sample is mixed with an oxidizing agent and placed on top of the flux in the quartz crucible. Then the sample is melted at 1200 ° C in the VITRIOX® ELECTRIC.
The results of the fusion tests show an excellent agreement with certified reference materials for almost all elements. Since SiO2 cannot be determined directly due to contamination by the quartz crucible, the alternative is to determine by 100% difference.
The studies clearly show that the use of quartz crucibles represents a serious alternative to platinum crucibles. Samples containing platinum poisons can be melted without damaging the crucible. The disadvantage that the sample is contaminated with SiO2 can be compensated for by adding an internal standard.